So yesterday the release version of KDE 4.1 came out and I'm up and running with it. Very nice!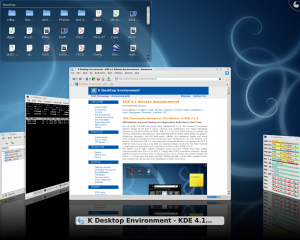 It's also fixed at least two of the problems I had with the release candidate, listed below, which is nice!
Konqueror locks up when you're using Request Tracker (RT) and try and either reply or comment on a ticket, which isn't particularly helpful.
For some reason I don't seem to be able to drag and drop a lock/logout widget onto the panel, presumably because it's already full of windows and systray icons.
It is eminently possible that the second problem was just me dragging it to the wrong place though.. 🙂