Those of you who follow me on Twitter will know some of this already, but I've been meaning to write here for quite some time about all this. It's taken me almost two years to write, because it's so difficult to find the words to describe this. I've finally decided to take the plunge and finish it despite feeling it could be better, but if I don't I'll never get this out.
September 2016 was not a good month for my wonderful wife Polly, she'd been having pains around her belly and after prodding the GP she managed to get a blood test ordered. They had suspected gallstones or gastritis but when the call came one evening to come in urgently in the next morning for another blood test we knew something was up. After the blood test we were sent off for an ultrasound of the liver and with that out of the way went out for a picnic on Mount Dandenong for a break. Whilst we were eating we got another phone call from the GP, this time to come and pick up a referral for an urgent MRI. We went to pick it up but when they found out Polly had already eaten they realised they would need to convert to a CT scan. A couple of phone calls later we were booked in for one that afternoon. That evening was another call to come back to see the GP. We were pretty sure we knew what was coming.
The news was not good, Polly had "innumerable" tumours in her liver. Over 5 years after surgery and chemo for her primary breast cancer and almost at the end of her 5 years of tamoxifen the cancer had returned. We knew the deal with metastatic cancer, but it was still a shock when the GP said "you know this is not a curable situation". So the next day (Friday) it was right back to her oncologist who took her of the tamoxifen immediately (as it was no longer working) and scheduled chemotherapy for the following Monday, after an operation to install a PICC line. He also explained about what this meant, that this was just a management technique to (hopefully) try and shrink the tumours and make life easier for Polly for a while. It was an open question about how long that while would be, but we knew from the papers online that she had found looking at the statistics that it was likely months, not years, that we had. Polly wrote about it all at the time, far more eloquently than I could, with more detail, on her blog.
Chris, my husband, best pal, and the love of my life for 17 years, and I sat opposite the oncologist. He explained my situation was not good, that it was not a curable situation. I had already read that extensive metastatic spread to the liver could mean a prognosis of 4-6 months but if really favorable as long as 20 months.
The next few months were a whirlwind of chemo, oncology, blood tests, crying, laughing and loving. We were determined to talk about everything, and Polly was determined to prepare as quickly as she could for what was to come. They say you should "put your affairs in order" and that's just what she did, financially, business-wise (we'd been running an AirBNB and all those bookings had to be canceled ASAP, plus of course all her usual autism consulting work) and personally. I was so fortunate that my work was so supportive and able to be flexible about my hours and days and so I could be around for these appointments.
Over the next few weeks it was apparent that the chemo was working, breathing & eating became far easier for her and a follow up MRI later on showed that the tumours had shrunk by about 75%. This was good news.
In October 2016 was Polly's 53rd birthday and so she set about planning a living wake for herself, with a heap of guests, music courtesy of our good friend Scott, a lot of sausages (and other food) and good weather. Polly led the singing and there was an awful lot of merriment. Such a wonderful time and such good memories were made that day.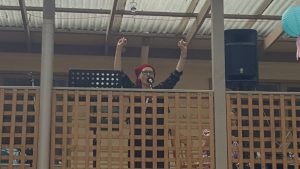 That December we celebrated our 16th wedding anniversary together at a lovely farm-stay place in the Yarra Valley before having what we were pretty sure was our last Christmas together.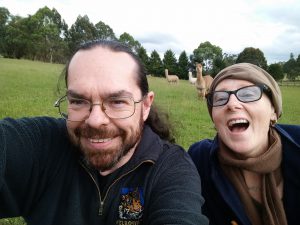 But then in January came the news we'd been afraid of, the blood results were showing that the first chemo had run out of steam and stopped working, so it was on to chemo regime #2. A week after starting the new regime we took a delayed holiday up to the Blue Mountains in New South Wales (we'd had to cancel previously due to her diagnosis) and spent a long weekend exploring the area and generally having fun.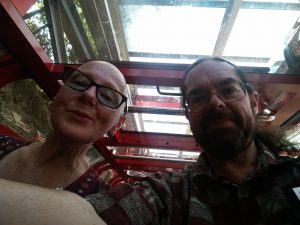 But in early February it was clear that the second line chemo wasn't doing anything, and so it was on to the third line chemo. Polly had also been having fluid build up in her abdomen (called ascites) and we knew they would have to start to draining that at some point, February was that point; we spent the morning of Valentines Day in the radiology ward where they drained around 4 litres from her! The upside from that was it made life so much easier again for her. We celebrated that by going to a really wonderful restaurant that we used for special events for dinner for Valentines, something we hadn't thought possible that morning!
Two weeks after that we learned from the oncologist that the third line chemo wasn't doing anything either and he had to give us the news that there wasn't any treatment he could offer us that had any prospect of helping. Polly took that in her usual pragmatic and down-to-earth way, telling the oncologist that she didn't see him as the reaper but as her fairy godfather who had given her months of extra quality time and bringing a smile to his and my face. She also asked whether the PICC line (which meant she couldn't have a bath, just shower with a protective cover over it) could come out and the answer was "yes".
The day before that news we had visited the palliative ward there for the first time, Polly had a hard time with hospitals and so we spent time talking to the staff, visiting rooms and Polly all the time reframing it to reduce and remove the anxiety. The magic words were "hotel-hospital", which it really did feel like. We talked with the oncologist about how it all worked and what might happen.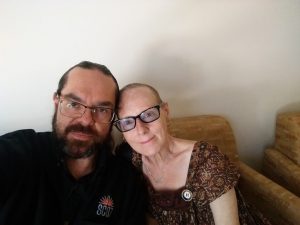 We also had a home palliative team who would come and visit, help with pain management and be available on the phone at all hours to give advice and assist where they could. Polly felt uncertain about them at first as she wasn't sure what they would make of her language issues and autism, but whilst they did seem a bit fazed at first by someone who was dealing with the fact that they were dying in such a blunt and straightforward manner things soon smoothed out.
None of this stopped us living, we continued to go out walking at our favourite places in our wonderful part of Melbourne, continued to see friends, continued to joke and dance and cry and laugh and cook and eat out.
Oh, and not forgetting putting a new paved area in so we could have a little outdoor fire area to enjoy with friends!
But over time the ascites was increasing, with each drain being longer, with more fluid, and more taxing for Polly. She had decided that when it would get to the point that she would need two a week then that was enough and time to call it a day. Then, on a Thursday evening after we'd had an afternoon laying paving slabs for another little patio area, Polly was having a bath whilst I was researching some new symptoms that had appeared, and when Polly emerged I showed her what I had found. The symptoms matched what happens when that pressure that causes the ascites gets enough to push blood back down other pathways and as we read what else could lie in store Polly decided that was enough.
That night Polly emailed the oncologist to ask them to cancel her drain which was scheduled for the next day and instead to book her into the palliative ward. We then spent our final night together at home, before waking the next day to get the call to confirm that all was arranged from their end and that they would have a room by 10am, but to arrive when was good for us. Friends were informed and Polly and I headed off to the palliative ward, saying goodbye to the cats and leaving our house together for the very last time.
Arriving at the hospital we dropped in to see the oncology, radiology and front-desk staff we knew to chat with them before heading up to the palliative ward to meet the staff there and set up in the room. The oncologist visited and we had a good chat about what would happen with pain relief and sedation once Polly needed it. Shortly after our close friends Scott and Morghana arrived from different directions and I had brought Polly's laptop and a 4G dongle and so on Skype arrived Polly's good Skype pal Marisol joined us, virtually. We shared a (dairy free) Easter egg, some raspberry lemonade and even some saké! We had brought in a portable stereo and CD's and danced and sang and generally made merry – which was so great.
After a while Polly decided that she was too uncomfortable and needed the pain relief and sedation, so everything was put in its place and we all said our goodbyes to Polly as she was determined to do the final stages on her own, and she didn't want anyone around in case it caused her to try and hang on longer than she really should. I told her I was so proud of her and so honoured to be her husband for all this time. Then we left, as she wished, with Scott and Morghana coming back with me to the house. We had dinner together at the house and then Morghana left for home and Scott kindly stayed in the spare room.
The next day Scott and I returned to the hospital, Polly was still sleeping peacefully so after a while he and I had a late lunch together, making sure to fulfil Polly's previous instructions to go enjoy something that she couldn't, and then we went our separate ways. I had not been home long before I got the call from the hospital – Polly was starting to fade – so I contacted Scott and we both made our way back there again. The staff were lovely, they managed to rustle up some food for us as well as tea and coffee and would come and check on us in the waiting lounge, next door to where Polly was sleeping. At one point the nurse came in and said "you need a hug, she's still sleeping". Then, a while after, she came back in and said "I need a hug, she's gone…".
I was bereft. Whilst intellectually I knew this was inevitable, the reality of knowing that my life partner of 17 years was gone was so hard. The nurse told me us that we could see Polly now, and so Scott and I went to see her to say our final goodbye. She was so peaceful, and I was grateful that things had gone as she wanted and that she had been able to leave on her own terms and without the greater discomforts and pain that she was worried would still be coming. Polly had asked us to leave a CD on, and as we were leaving the nurses said to us "oh, we changed the CD earlier on today because it seemed strange to just have the one on all the time. We put this one on by someone called 'Donna Williams', it was really nice.". So they had, unknowingly, put her own music on to play her out.
As you would expect if you had ever met Polly she had put all her affairs in order, including making preparations for her memorial as she wanted to make things as easy for me as possible. I arranged to have it live streamed for friends overseas and as part of that I got a recording of it, which I'm now making public below. Very sadly her niece Jacqueline, who talks at one point about going ice skating with her, has also since died.
Polly and I were so blessed to have 16 wonderful years together, and even at the end the fact that we did not treat death as a taboo and talked openly and frankly about everything (both as a couple and with friends) was such a boon for us. She made me such a better person and will always be part of my life, in so many ways.
Finally, I leave you with part of Polly's poem & song "Still Awake"..
Time is a thief, which steals the chances that we never get to take.
It steals them while we are asleep.
Let's make the most of it, while we are still awake.