I was watching Time Team on the ABC where they were excavating a suspected crannog and henge monument at Loch Migdale in Scotland back in 2004 when they showed a quick bit of video of the remains of a stone causeway underwater.
Whilst watching the fly over of the rocks something caught my eye, something that looked too regular to be natural and what appeared to me to be a round circular container. I had recorded it on the DVD recorder so I grabbed a few frames to show, but whilst it can be hard to see in still images it's a bit more obvious when you see it moving so I've also got an animated GIF of those put together here.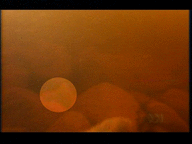 Here are the individual stills in my gallery with the oddity highlighted, click on one to see it at a better size.
1636
1639
1642
1645
1648